People from all walks of life are welcome to experience Accessible Yoga with Mary-Jo Fetterly, Trinity Yoga's founder. For 30 years, yoga has been Mary-Jo's passion and profession – she's worked with some of the best instructors, and also created one of the first Canadian nationally certified 200-hour teacher training program.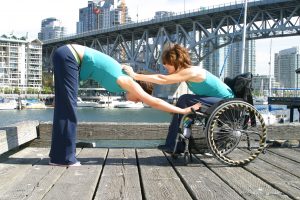 During your private Accessible/Adaptive Yoga Therapy session, Mary-Jo will provide an in-depth personal assessment, then create an enjoyable, supportive and safe yoga practice designed to fit your specific needs.
An Accessible/Adaptive Yoga private session may include:
Adapted postures or poses
Breathwork and breathing techniques
Restorative or releasing techniques
Mindfulness or meditation practices
Using props, bolsters, straps, blankets and blocks to completely support the body, our Accessible/Adaptive Yoga Therapy private sessions are designed to create the best experience possible for each and every student.
"Accessibility" fundamentally suggests an ability to be open, approachable and inclusive – it implies effortlessness and ease. Now, doesn't that sound like an antidote to stress and the suffering that comes along with it?
Be it better health, healing, anti-aging, focus, a particular goal or simply peace of mind, Accessible/Adaptive Yoga offers a utopia of tools, techniques and practical applications to address all of these needs – and yields immediate results.