Spring Equinox 2014
Rebirth, Rekindle, Rejoice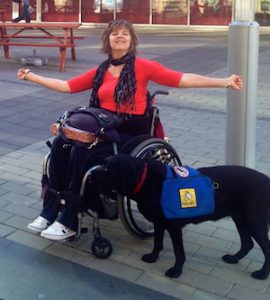 With the Spring Equinox, it is with great pride and pleasure that I bring my thoughts words and intentions forward into a newsletter address to my former students, friends and associates. This is the 10-year anniversary of the skiing injury that changed my life profoundly.
It is also the year I am midwifing the rebirth of Trinity Yoga School, as a revised and renewed 200-hour YTT, a 40-hour Adaptive Practitioner Program, and an exciting new 300-hour A.R.T. specialized YTT upgrade.
It is taken me a considerable amount of thought and deliberation over how to go about rebirthing myself and Trinity Yoga, or even if I ought too.
At the end of the day and the depth of my meditation, I understand that I must share the gifts and resources that have been offered to me, with others.
It is from that auspicious place –the seed of intention and creation- that I invite and welcome you all to rekindle your acquaintance and association with me and the new form of Trinity Yoga.
From our new website Trinity Yoga & The ART of Living Well with Yoga:
After Mary-Jo's skiing accident in 2004 it was uncertain where and what would happen with Trinity yoga. Although Mary-Jo taught for two years post injury it was clear that traveling and teaching so much was taking a toll on her traumatically injured body, and she retired in 2006. In 2008 some of the new facilitators went on to form Gayatri yoga and Trinity yoga was put to rest temporarily. From 2006 until 2012 Mary-Jo was on a rehabilitation and healing sabbatical. Still working closely with her teacher Rod Stryker as well as other well-known healers Mary-Jo put Yoga and her constitution to the test.
From similar beginnings and impulses as when Trinity Yoga was first established back in 2001 Mary-Jo felt the need and the importance to share what she had learned and how yoga and the healing science of Ayurveda dissolved 'illness and impossible' from injury. Now in 2014 Trinity Yoga will rebirth itself into a 500 hour school with a comprehensive new 300 hour program specializing in the A.R.T. of living well with yoga concept.
This concept, born out of Mary-Jo's 10 years of disability, defines ART as Adaptive, Restorative and Therapeutic. This program is a 300-hour specialized training for yoga teachers who have accomplished their 200-hour certification. There also is a 40-hour continuing Ed course for healthcare professionals, caregivers, family and therapist's, who work with the physically challenged and special, needs population in some capacity.
Look at our new site www.trinityyoga.net and tell us what you think.
In this rebirth we hope to rekindle the flames of passion, purpose and presence and share the gifts and benefits of yoga with every-body. On that note, I'm honored to announce the appointment of the following people in this rebirth of Trinity Yoga. In our faculty you will notice some familiar faces such as Mara Branscombe, Brenda Cartier, Keisha Clancy, Sophie Ann Dufrense, me-Mary-Jo Fetterly, Laurie Madison, Danielle Schroeder and Pamela Joy Sunshine, and we welcome Jane Bigmore, Mariah Yudit Moser and Madhuri Phillips.
I rejoice in the blessing the gifts of these very talented people who have come forward to rekindle Trinity Yoga, I welcome you to rejoice and celebrate with us as I am thrilled to announce a 10 year reunion of the Trinity yoga family. This reunion of our alumni and friends and family will take place at the first ever – Kootenay Spirit Festival – coming next fall September 12-14th in Nelson BC. Sharon Thompson who many of you are familiar with as 'logistics queen' will be organizing a special reunion celebration, along with festival organizers. You can find out more soon on their site www.kootenayspiritfestival.ca.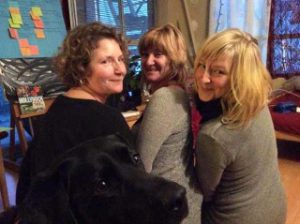 We have also rekindled the popular 200-hour certification and I am delighted to announce that Sophie A. Dufrense will be heading up these trainings. We will be offering our first Level one April 17-21 in Calgary at Leela Eco Spa & Studio. There are a couple spots left if you or someone you know may be interested. Please check out our new website www.trinityyoga.net for other events. The beauty of this is the promise of rebirth and the potency developed each time we surrender to the change that is inevitable. In closing I invite your thoughts and comments and leave you with the same from Sophie:
Thankfully, spring is a time not only of melt & warming in Nature, but also a time of strong energetic shifts within ourselves. It seems to be the best time of year to begin. I feel quite fortunate myself to be in the middle of a new beginning, as a facilitator for Trinity Yoga's teacher training program with Mary-Jo. I was once a budding young yogi, looking for more and it was around this very time of year that I found Trinity. I had an office job back then and for many reasons, I felt dissatisfied with my situation. I had been practicing yoga for many years and it was becoming more & more present in my daily life. Something deeper than the poses resonated for me and I knew I wanted to know more.
Meeting Mary-Jo was very serendipitous. I was immediately inspired by her wisdom and courage. Within days of that first meeting, I was freed from the corporate world and began my journey as a teacher trainee. It seems like so long ago. My daughter was so little – only 2 – when I started training to teach. I guess I was a lot younger too! Ever since then, I've taught and learned and grown into myself with more & more gratitude & joy. I feel so blessed. Spring reminds me every year of the blossoming potential within each of us, what a great gift it is to cultivate & activate this divine energy.
Join me in the pure atmosphere of gratitude for life.
---
Upcoming Events
POWER PASSION & PURPOSE
Friday, April 11, 2014 at 5pm-7pm
INNER EVOLUTION, Vancouver, BC
16 Ave & 3263 Heather Street
A mini-workshop with Mary-Jo Fetterly (ERT-500).
Experience the powerful tools and techniques of TANTRA to unleash your PASSION & PURPOSE.
Price: $33
LEVEL ONE YTT
April 17 to April 21, 2014 at 8am-8pm
LEELA ECO SPA & STUDIO, Calgary, AB
849 1 Avenue NE
A fabulous entry level course for teachers-to-be, yoga students looking to deepen and enhance their practice, and those seeking personal development through yoga.
A fabulous 5-day intensive based on the 'Quantum Learning' method.
Adaptive Yoga Workshop
Sunday, May 18, 2014 at 12-4 pm
INNER EVOLUTION, Vancouver, BC
16 Ave & 3263 Heather Street
A fantastic workshop focused on adaptive yoga techniques.
Price: $50